I was getting ridiculously low on soap...I had probably less than 2 dozen bars that would be reasonable to swap or sell, and I have had several e-mail or
Craftster
pm inquiries lately! So I got myself into the soapin' kitchen (it's my regular kitchen actually) and got to work. 4 hours and 1 frantic call to my friend Jen later, I had 4 batches of soap! 82 bars altogether.
The following day, Aidan "helped" me cut them and put them on the curing racks. I have an awesome professional cutter that cuts a whole log at once, and after I positioned the soap log he pushed down on the bar to slice them. He's a good helper. :) He also said that I'm a "good soap cooker." I don't cook my soap, it's cold process, but compliments are always appreciated! I love 4 year olds!
Calendula Green Tea, with dried Calendula petals and green tea powder for a light green color (that will fade to a brownish green) with a light, fresh green tea fragrance.
Unscented Oats 'n Honey, yum! I actually put in a little less oats than usual, but I think that's ok. I've been out of this for soooo long, but luckily I had a nice bar from Jen that was similar, but also contained egg yolk!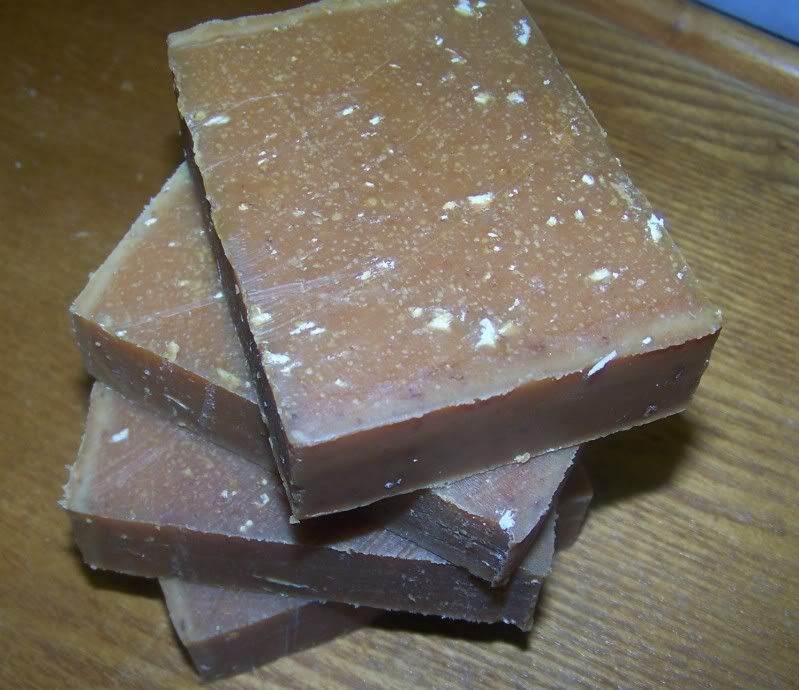 Lavender! This is wonderful for sensitive skin, and I love the light purple swirl in it.
And my absolute favorite bar of all time~Shea Luxury! This is 60% unrefined shea butter, without any colorants or fragrances. Yeah.