This is an Advent Calendar I made last year in a Craftster Swap I organized.
I made this Advent Calendar for my partner in the
2011 Advent Calendar Swap
! (If you click "show images only," you can quickly see all the great advent calendars and gifts made in this swap!) My partner said her color scheme for her tree is purple, pink, light blue, and bright green so those are the colors I used for the ornaments.
Here is the base of the tree. I made a half tree template out of poster board and then cut out two on the fold of the green fabric (which was a new Ikea sheet that I had used part of in a different project). I cut the bottom so that there was a 6 inch piece in the middle that jutted out 1/4 inch so I could sew the tree trunk onto it. I had the awesome faux wood fabric from kittykill that I've used in a few projects. After sewing the trunk onto each side I sandwiched it inside out with a piece of batting in the middle and stitched around. I put a hanging loop in the top of it before I stitched.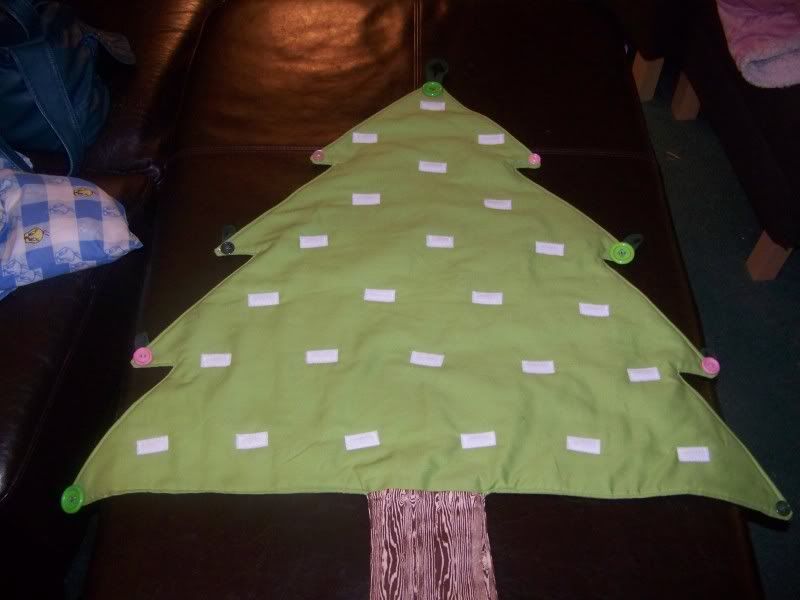 After turning the tree right side out I top stitched (edge stitched?) all the way around the outside, including the turning hole. I placed my ornaments on the tree and marked an x where I wanted to put the velcro. Then I stitched the rough side of the velcro on and was done with that part!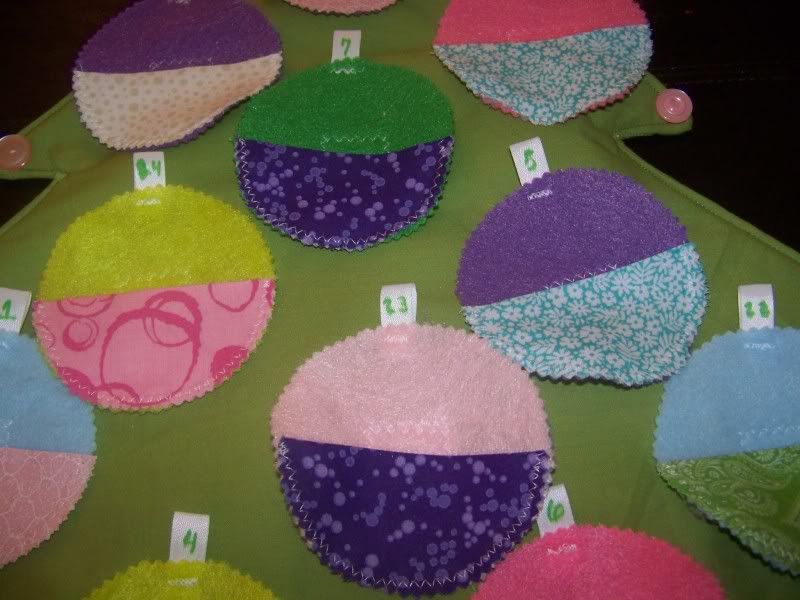 For the ornaments I cut out one circle with my pinking shears from felt and one circle with pinking shears from patterned cotton material. I stitched the loopy side of the velcro onto the back of the felt and then folded the cotton circle, wrong sides together, and placed it at the bottom of the felt circle. I zigzag stitched around just the bottom half of the circle, so the folded part of the circle became a pocket. Then I stitched a bit of twill tape onto the top to look like an ornament hanger and wrote the day on it.
Oh yeah, I had only put a hanger on the top to begin with, so I added hangers onto each point of the tree because they were flip-flopping around. But I did it with a dumb color of thread so I ended up covering the stitching from that on the front with cute buttons!
Hopefully it's fun to decorate the tree a little bit more each day!